Two weeks ago I promised more photos of the Ikea bins and shelving units.  Last Friday got away from me preparing for New Years Eve and day.  It amazes me how everything seems to go into over drive when a holiday is coming up.
As a result I am here now writing the post.  It's been very cold here the last week.  I like it when it's this cold.  
One night Max (mini schnauzer) had to go out...when I opened the door and look out at the night sky I was in awe of the clear crispness of it.  I should've put a shoes, coat, hat and gloves on to stand outside longer to really enjoy the beauty.
It reminds me of a time when I was at missionary school with Youth With A Mission.  We were up at a camp in the mountains of Colorado.  It had snowed while we were sleeping.  And, like most camps, one had to walk to the bathroom.  It was so quiet and calm...I loved being out there by myself.  There was even a bunny that kept me company for a moment or two.
Or the time when I was about 9, when it snowed and snowed and snowed...I went outside with my brothers and sister to play in the snow.  One by one they went in because they were cold.  But I stayed out, toasty from the activity, looking up at the sky feeling alone and close and serene despite the chaos in my world.  I'll never forget the steady calm as the flakes slowly drifted down.
That's the same feeling I get when I'm sewing. 
 I've often wondered if it's because when I'm sewing it's because I'm 100% in control...or maybe it's because I'm practiced enough at the art of quilting that it doesn't take as much effort??  I'm not entirely sure.  But whatever the reason is (I don't want to pick it apart for fear of destroying the peacefulness of it) it is the place where my hands and body work while my mind and spirit think and pray.
*pause*
That was more than I was expecting...hopefully not too much for you!  I think the segue there is that when my world is chaotic I feel chaotic.  And organizing and minimizing is way, for me, to gain some equilibrium in the chaos.  (did you see what i did there??)
A few years ago we redecorated the office.  (it's not quite finished...needs proper closet doors and trim.)  I was so utterly frustrated with the closet.  So much wasted space and I really needed a functional storage area.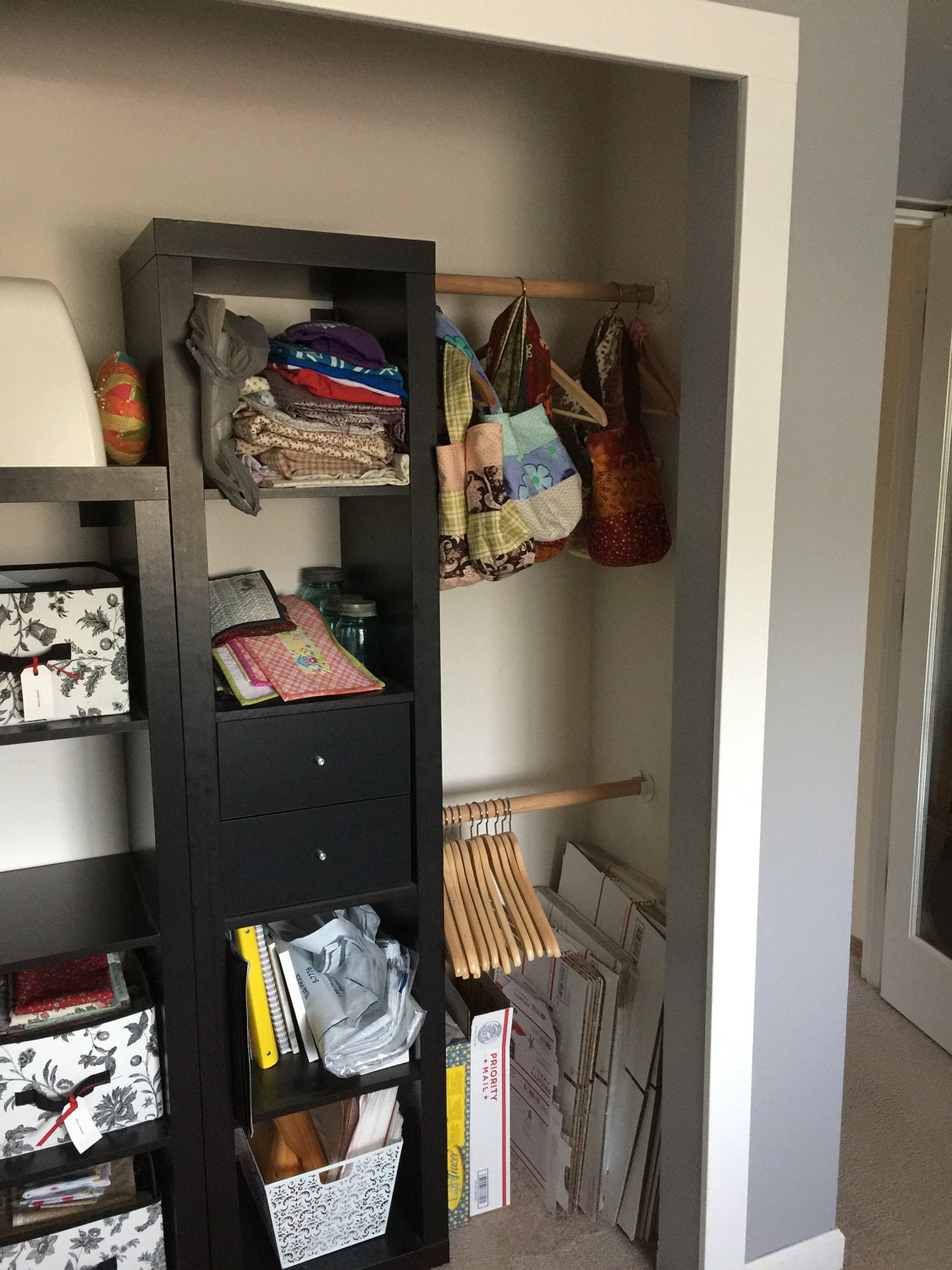 We took out the wire racks that came in the house.  Then put in this configuration of the Kallax bookshelves.  My sweet hubby, whom I lovingly refer to as D, then put in two short rods for hangers, on which client quilts were neatly folded and hung.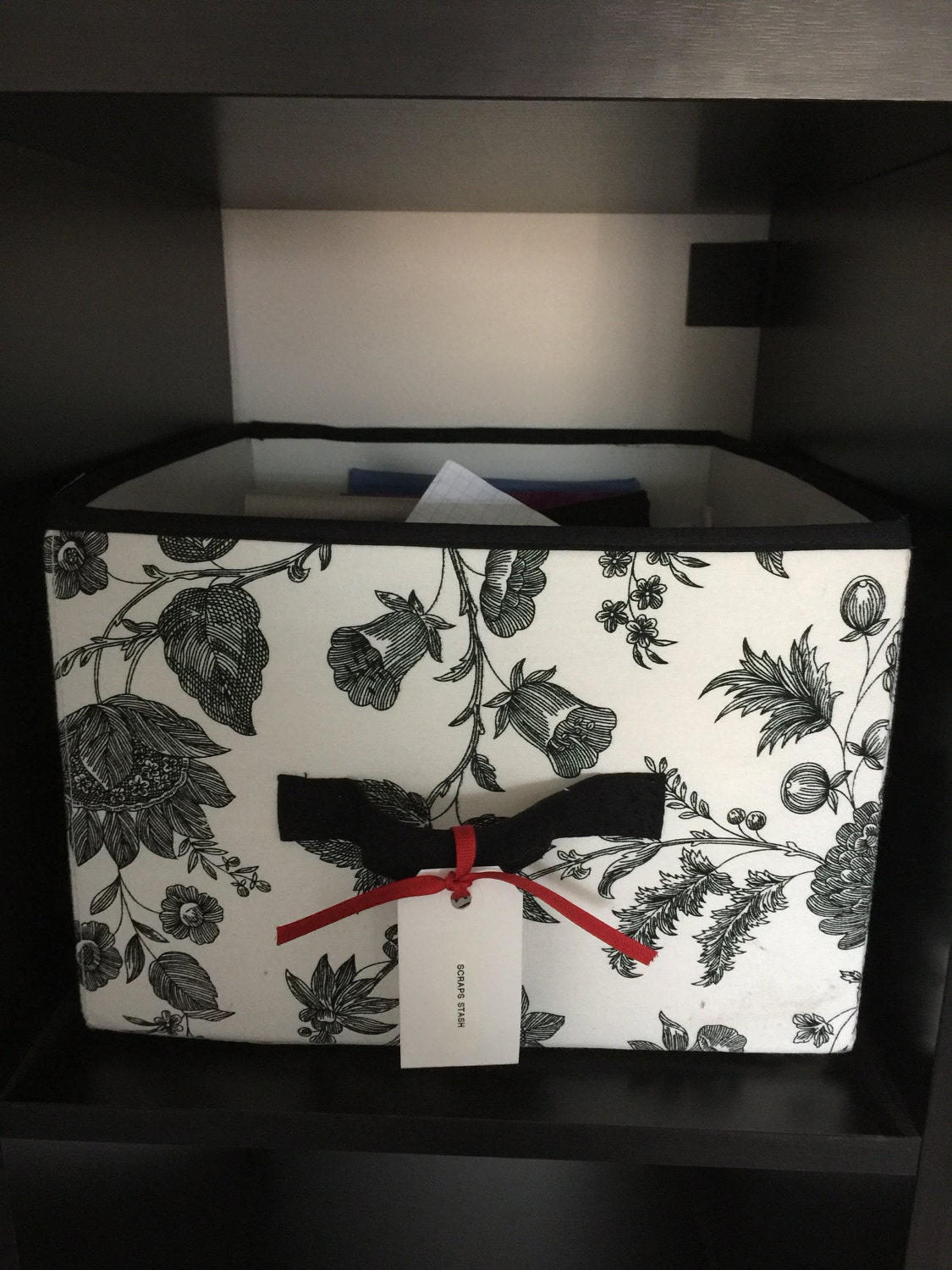 Each bin has a tag with a description of what is *supposed* to be in that bin.  (keep in mind that with rummaging around comes things not being put back properly so...)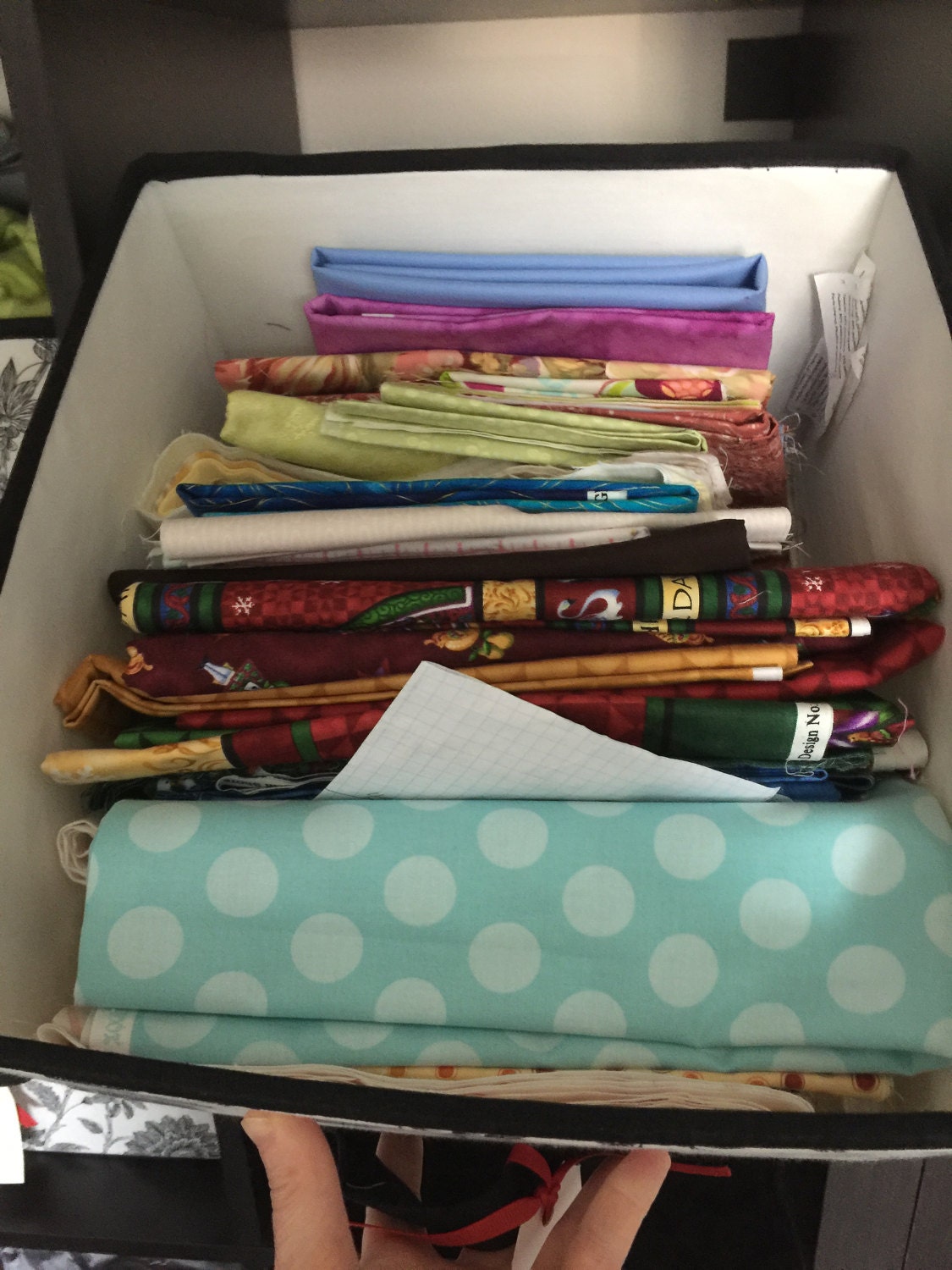 Then I fold put the box on it's end with the tag, neatly fold the fabric stacking it as I go.  When it's put back on it's bottom it should look like this.  (i'm not sure why the blue dot fabric is slumped over like that!)  usually if i have a plan for some fabric i put the paper with the plan (because the patterns are all in my head, of course...why would i actually use a pattern that's all ready made...*hint of sarcasm*).
It's not perfect.  But it also doesn't cost me a ton of money.  A win-win for me.
Since we're here...here's my design wall and bins I put my patterns and kits in.  The bins I got at Office Depot.  And are super cute!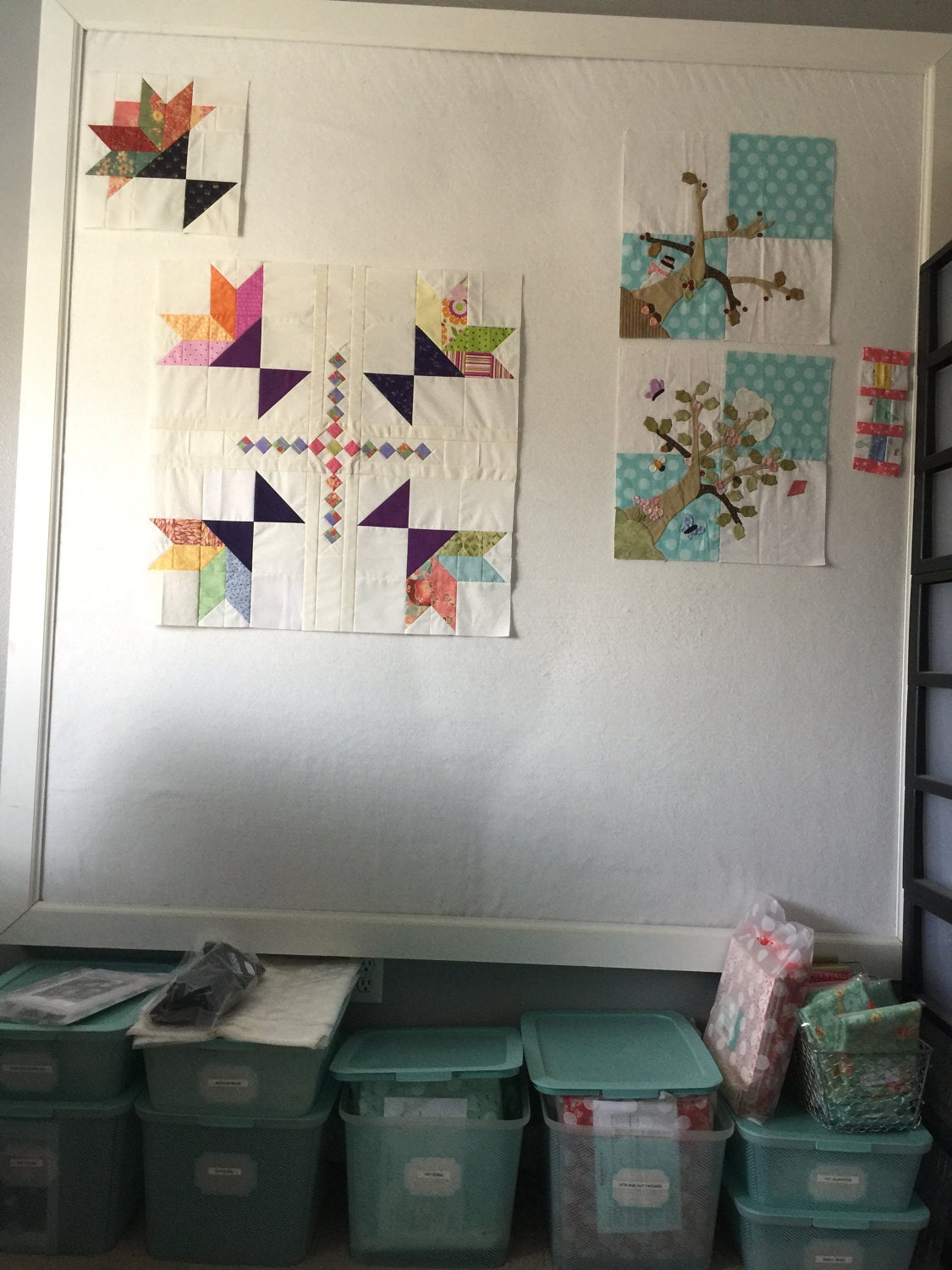 it's a room that gets only sun in the very early morning so there's a lot of heavy shadows.
D made the design wall for me.  He made a simply frame.  Then we covered the foam insulation with two layers of batting, put it in the frame and D then stapled the trim on.  As you can see it works great and is pretty.  Though...during the summer when the windows are open and it's a bit blow-y everything comes down.
All right...I've got to move on with the next thing.  You can find me on Facebook or Instagram.  Or, you can scroll to the bottom of the page and sign up for my newsletter.  No worries...I'm not a serial newsletter distributor.  You'll be lucky to get one a month from me!
I hope your week has gone well and you've got big plans for the weekend!
xo,
~ h