Happy New Year!!
Did y'all welcome in the New Year with a blast?  Sadly, we did not.  Our poor puppies can't handle fireworks!  So we stay close and quiet.
Last week I shared about pricing and what to expect in that department when looking for a longarm quilter.  You can find that article here.  This week I'll be sharing about the quality of the work you should be expecting for the amount you pay.
Let's face it.  When you go into Wal-Mart expecting Wal-Mart prices and get Wal-Mart quality you aren't surprised, right?  But when you go in finding Nieman Marcus quality and Wal-Mart prices you'll tell the whole world about the amazing deal you found.  Conversely, if you go into Nieman Marcus and find Wal-Mart quality at Nieman Marcus prices...well, you'd tell the whole world but it isn't about the amazing deal...rather, what a rip-off that place is!!
Am I right or am I right??
However, because longarm quilting is such a niche market and dependent entirely upon the personality and creativity of the longarm quilter, it can be very hard to determine if the work you hold in your hands is Wal-Mart or Nieman Marcus quality.
There are a few things you should consider before continuing:
I am a recovering perfectionist.  This means I have a tendency to be neurotic when it comes to quilting but am working on loosening up.  And to give myself and others a lot of grace because, you know, we aren't perfect!  (what an unrealistic expectation that is!!)  
As people grow in their skills you will notice a change in their craft.  They may notice things you may not and create accordingly. 
Quality of work and the work you wanted can be two very different things.
Let's talk a bit about what poor quality looks like.  (i'll try and find some examples...most people won't take photos so hopefully descriptions will be fine.)
Spaces Between Lines ~ Spacing should be consistent without large unquilted areas.  Hint:  If you lay the quilt out and look at the quilting as a big picture (instead of close up) you shouldn't be able to see areas that are unquilted.  Quilting should be like the background music in a movie or tv show...you shouldn't really notice it...but when you do...oh, yes.  It's amazing.  The quilting should add to and complement the quilt itself or the personality of the maker or recipient.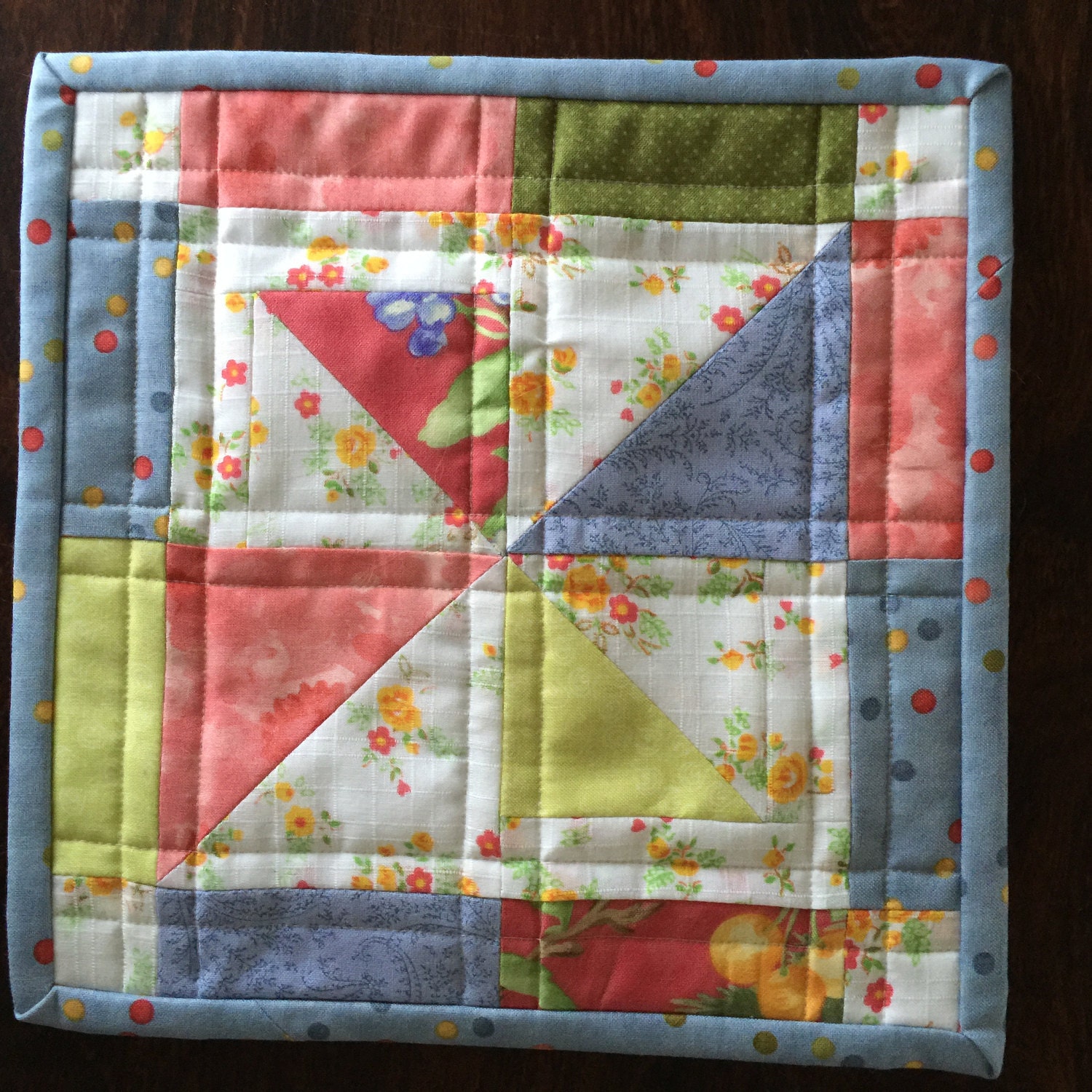 (this is a little mug rug that i quilted on my domestic machine.  you can see that there are some large spaces but the overall design is consistent.)
Stitch Length ~ How big are the stitches?  And, are the stitches approximately the same size?  When I first started quilting a lady brought me a quilt and said she liked large stitches.  I had no idea at the time.  You see...large stitches are, compliments of another quilter, toe nail catchers.  LOL  (take a moment if you need to.)  It's true!  And anything will catch those stitches and break them.  One of my earliest quilts is losing it's stitches for that reason.  Also...do the stitches go from really big to really small?  This is an indicator that the longarm quilter is using a machine without a stitch regulator, which, by the way, is totally fine if they are able to control the machine properly.  Consistent stitch length is very pretty.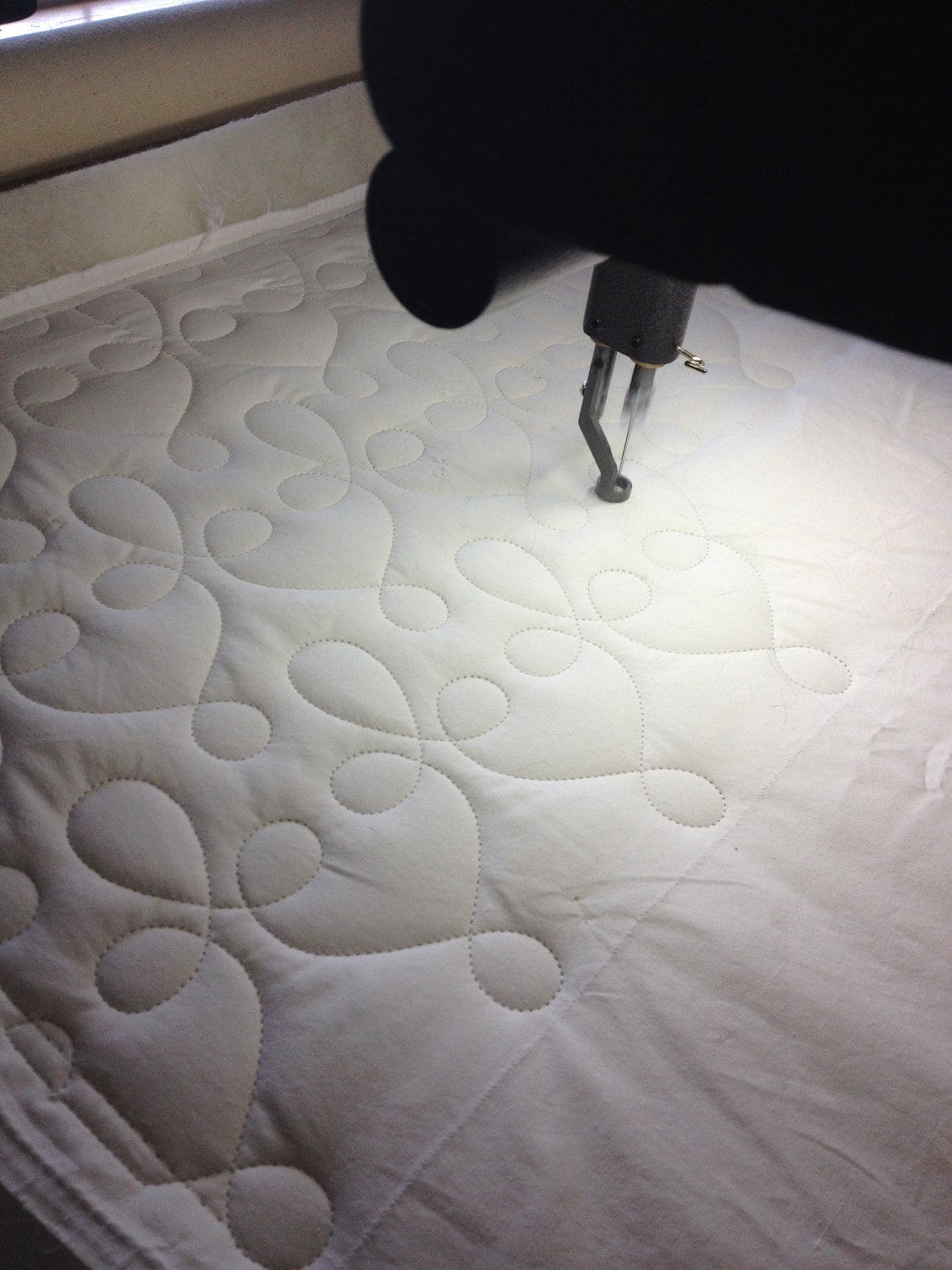 (this is a quilting job using a pantograph.  the same design is quilted in rows along the width and then down the quilt.  it has a nice consistent look.  not super fancy but, if done properly, looks great on a quilt.  also...you can see the stitches...small and even.)
Smooth Lines,  Soft Curves, Pointy Points ~ These are the hallmarks of really good quilting.  Even if it's freehand any quilting that looks unintentionally jagged, jerky or weird...or the points are blunt, means the quilter needs more practice.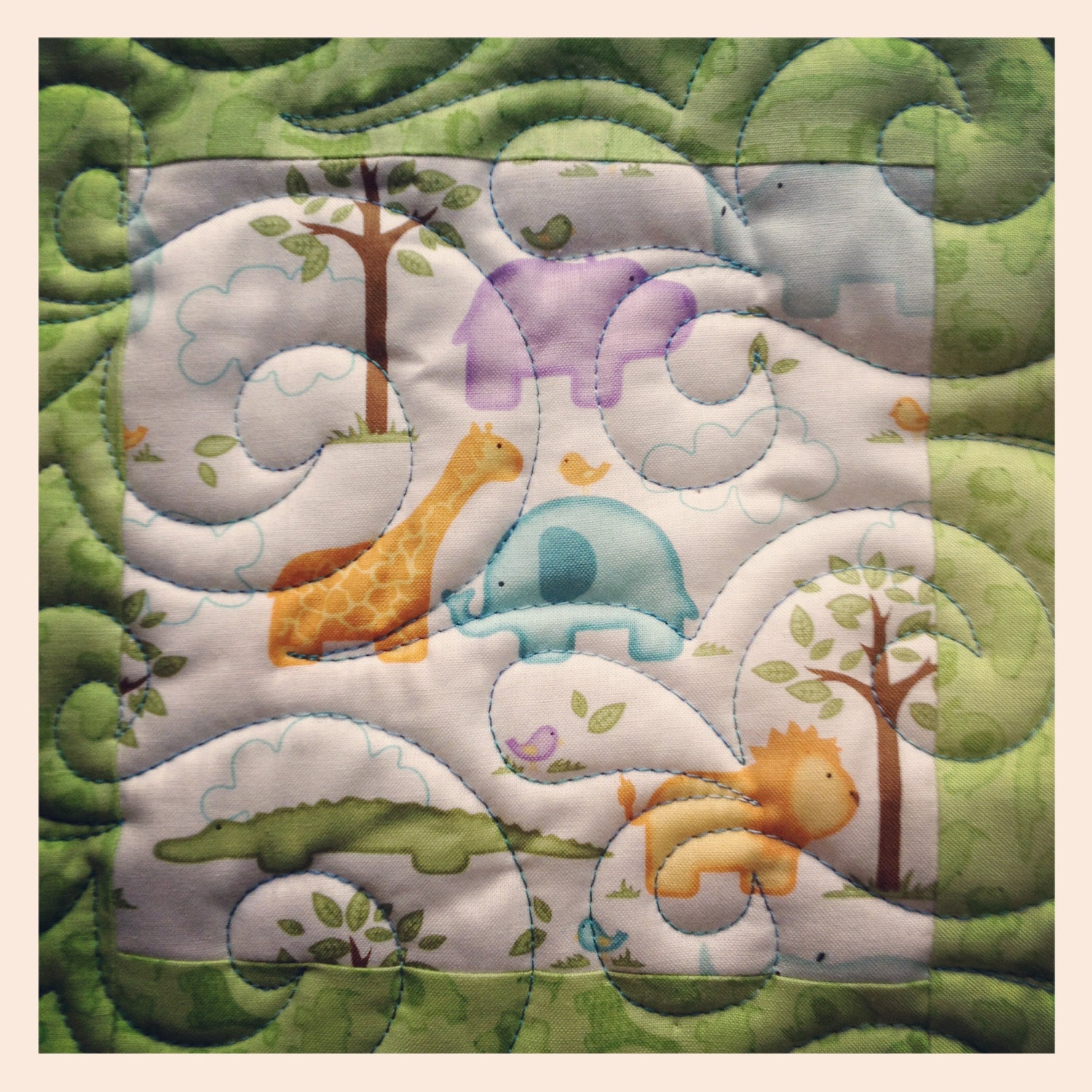 (this is a little quilt i quilted with a pantograph...see below... using a machine without a stitch regulator all hand-guided.  it's not 100% perfect but looks very close to the pantograph.)
Consistent Design Work ~ If the quilting starts with a certain design or density it should carry throughout the whole of the quilt.  A gal once brought me a quilt that looked like the quilter had started with a pantograph but something happened and then she changed to a large all-over meander that randomly did other...stuff (because I don't know what to call that quilting job, truthfully).  The words here are clean and intentional.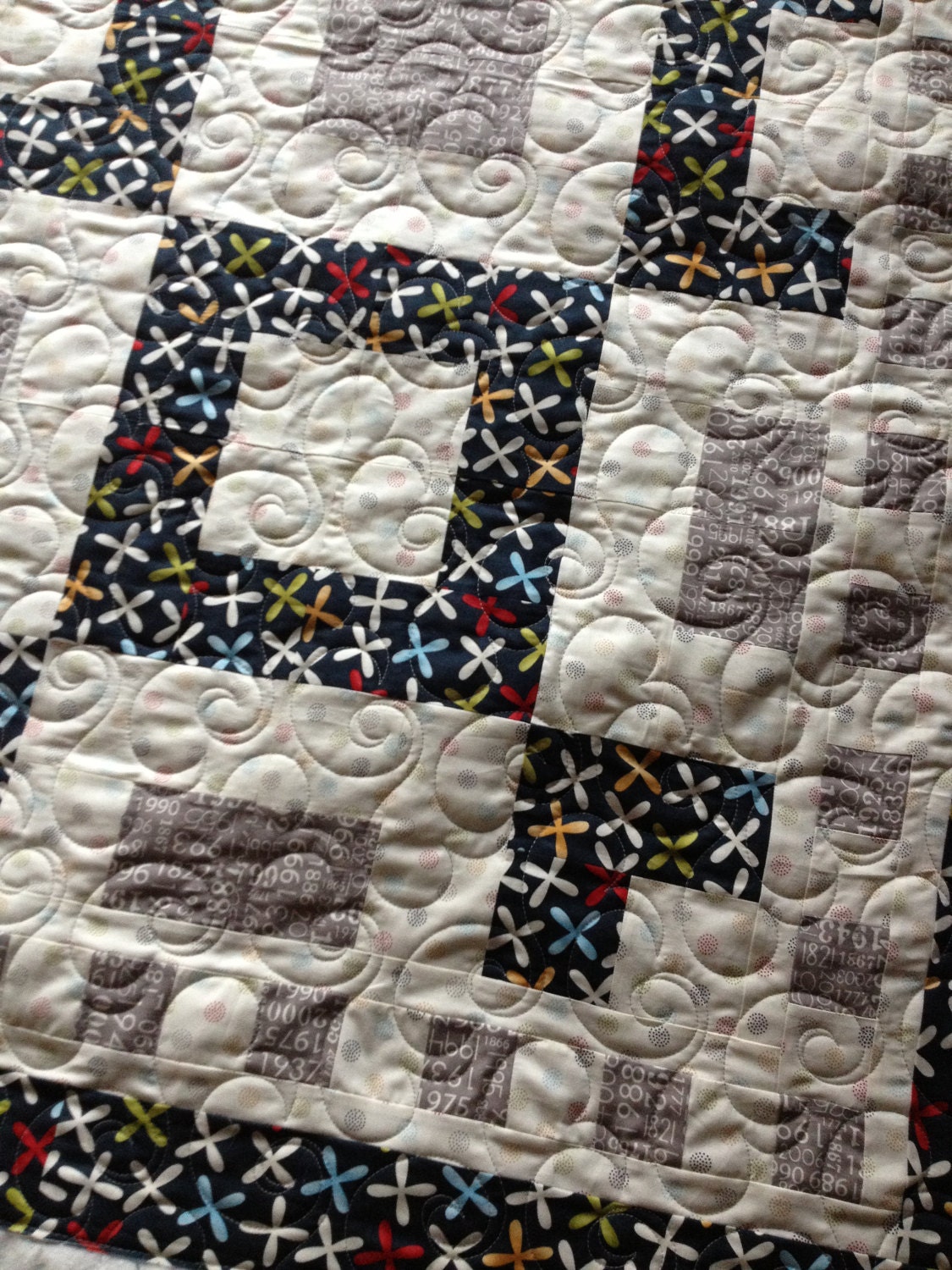 Pantograph Quilting ~ This type of quilting should start and stop off the edge of the quilt.  Always.  If it doesn't the starts and the stops of the quilting will not disappear under the binding and looks weird.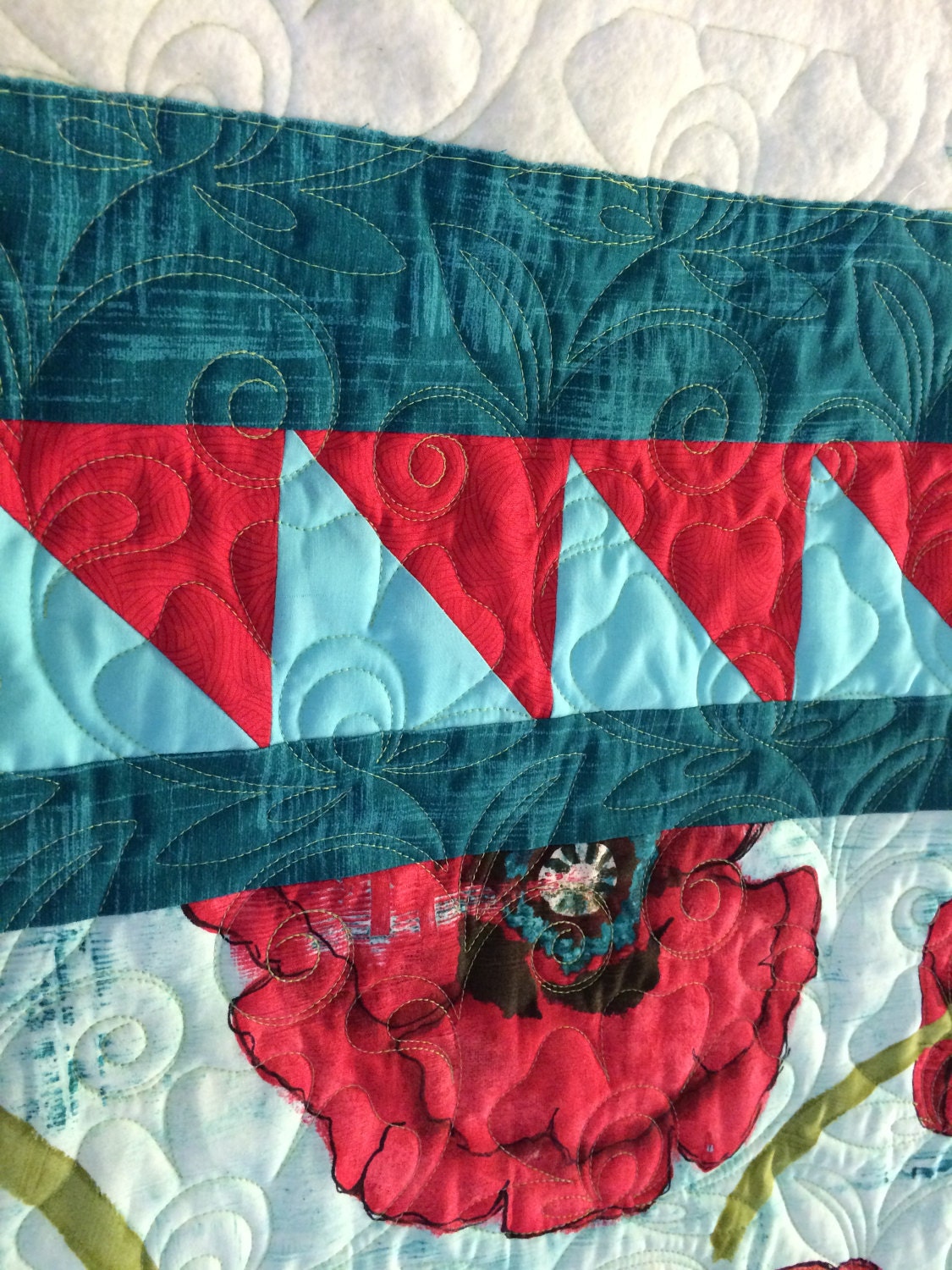 (i think this quilt is sideways...but you can see how the quilting goes off the edge...)
Custom Work ~ Probably the toughest parts.  It's so time consuming!  Especially for those of us who can't help but quilt small.  This is where it's super important that you tell the quilter exactly what you want...do you want smoke coming out the chimney?  Say quite pointedly, "I want smoke coming out of the chimney."  Saying, "I really liked how Suzy Quilter made smoke coming out of my friends chimney."  Your quilter may miss this cue.  (ask me how i know this.)  But keep in mind that no two quilters are alike and their quilting is a reflection of them.  Check out their work first!  If you say, "I don't care what you do.  I know I'll be happy."  They will either believe that you WILL be happy or will be a nervous wreck because the expectation was so vague.  (again, ask me how i know this.)  the hallmark of quality custom work?  it takes a bit of time.  anywhere from two days to two weeks or more.  it might include some stitch in the ditch (an advanced technique for longarm quilters, believe it or not), feathers, background fills, straight lines, special design elements.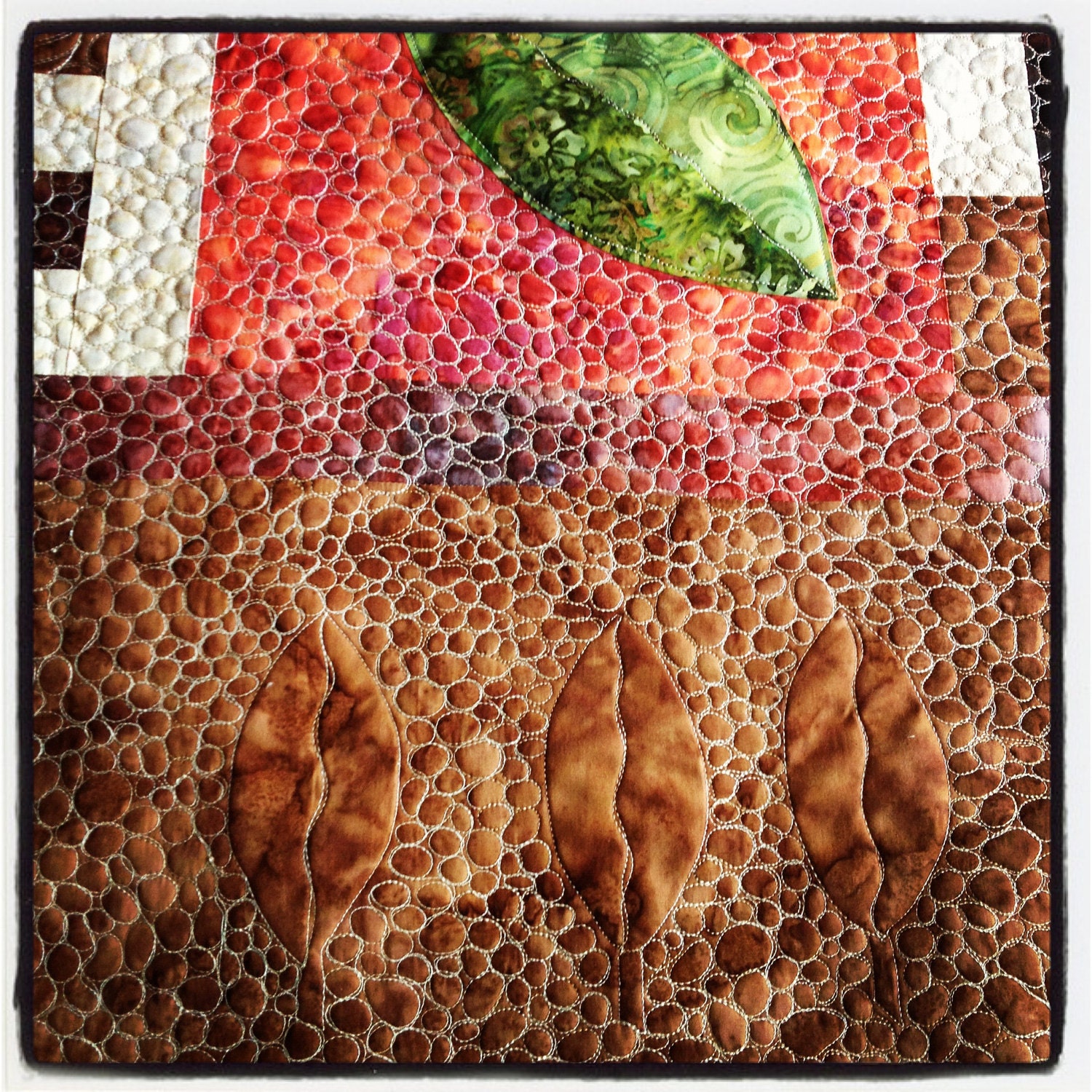 (the quilted leaves reflected appliqued leaves in other parts of the quilt...i quilted pebbles and mctavishing to make it look like waters on rocks.)
Long Stray Threads ~ Super important that all threads are tied, buried and clipped.  If they aren't clipped they probably aren't tied.  And if they aren't tied all that work you paid for will come unquilted.  Boo!!
Tension Issues ~ (i almost forgot this ever important one!!)  Tension can be super tricky...especially with an unexperienced longarm quilter.  Check the back of the longarm quilters quilts (this is where it'll appear most often).  If the tension looks iffy make a note of it.  Why is this an issue??  When the tension is off the stitching lines are hard.  The loop where the top thread and the bobbin thread loop together should be buried inside the quilt.  It also looks yucky.  Look for what's called "eyelashing".  Here's an excellent article about it.  Shows off yucky tension!
And those are the main areas of longarm quilting where you can look for quality work.
I want to add that I'm NOT the perfect quilter.  Not by a long stretch.  However, I aimed to send out work that reflected my pricing (see previous article).  I certainly couldn't please everyone.  If I didn't feel good about what I had produced then I worked really hard to make that person happy by some other means.  Sometimes I couldn't make them happy.  Sometimes, one mistake often meant a lost customer despite my best efforts.  That always made me sad because I poured myself into those quilts.  To have someone walk away unhappy practically killed me...especially if it was in relation to something that wasn't an issue of quality work, just a misinterpretation or difference of opinion.
Remember, be kind.  Figure out what you want.  Ask for samples of work.  It's okay if the quilter doesn't match your personal style.  Take time to find someone that you like working with and feel matches your quilting style.  A great partnership goes a long way!!
Thanks for stopping by!  You can find me on Facebook and Instagram.  Sign up below for my newsletter.  Or if you have any questions or thoughts about this post please send me an email at info@heatherspencedesigns.com.
Happy quilting!
~ h