We've been in our new house, now, for just over a month.  Three weeks ago (today!) our container arrived that had all of our goodies in it.  And three weeks ago tomorrow I got my new sewing machine.  :)  It's been a good three weeks becoming reacquainted with my quilting treasures.
Honestly, it took at least a week before I started working on the binding for the two projects that I didn't finish before they were packed up in July.  The small one I finished in a couple of nights.  But Star Crossed took longer to get to.  I never can figure out why that is...why I have to talk myself into some things.  Regardless, it's finished and I absolutely LOVE it.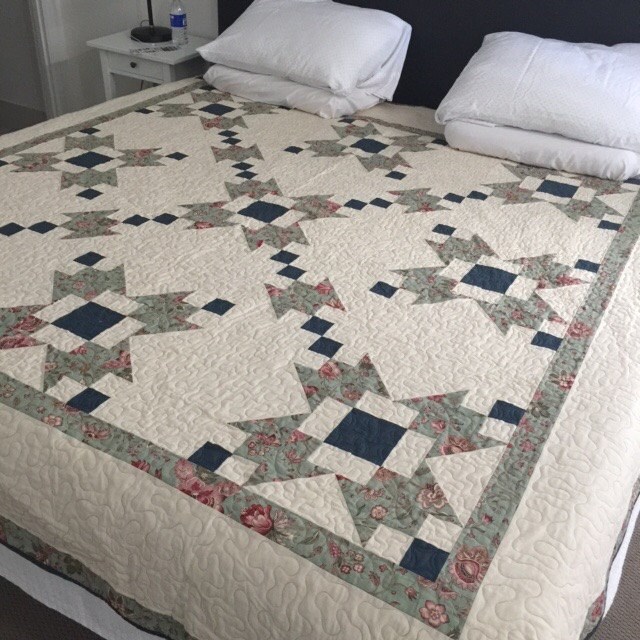 Details.
Queen size quilt, size 88" x 88".
Uses three fabrics.  I chose three fabrics by French General from Moda.  They all came out of my stash.
The block size is 16" square. You can't see them in the picture but in the four corners of the cream border there are cornerstones...one of the 16" blocks broken down into 8" blocks.  (did that make sense?)
I used a wide-back fabric from Moda on the back.
The thread is from Superior Threads...in the cream areas I used King Tut Sands of Time, in the green areas I used King Tut Reed and I don't remember the name of the blue thread.
Because the pieces of the quilt are so large it goes together quickly.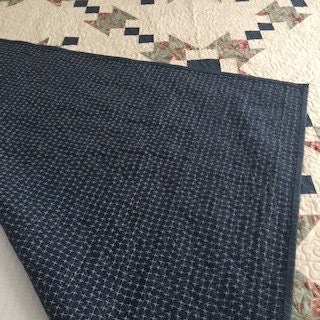 The digital version of Star Crossed is available here on my website, in my Etsy shop and on Craftsy.  If you'd like a paper version of the pattern you can find it at Urban Elementz.
In other news...I've been working on two new patterns!  One is nearly ready to be sent to the publishers.  The second one will be our new mystery quilt starting in April.  This one I had to cut the pieces and lay it out before I could even draw it out (it was a bit of a mind trip on paper).  It's so cool!!  I think you'll really like it.
Tomorrow I'll post my first Tuesday's Tip in like...forever.
If you want to follow more of my adventures down under please follow me on Instagram!  You can find me here.  You can also sign up for my newsletter here on my website or follow me on facebook.
Have a wonderful day!!
xo,
~ h